Bent Realm Studios - The Art, Writing & Works of Christina Nabity - Also Blogs | Stories | and More | Genres include - Fantasy, Sci Fi, Horror, Goth & Steampunk
I have had to let go of a lot of plans in the last few years, had a lot of priority changes as well as major situation changes and so on over everything, including some really major changes; having to figure out what that means for my website and more, I am going to be adjusting my website and online presence accordingly for quite some time, aside from these changes I still hold out hope for a few future usage of prior endeavors in certain directions that I cannot currently pursue (in theory I aim to post a proper update about this stuff a bit more specifically)
Working on a variety of writing projects and art projects, etc.
Thinking about a variety of blogging ideas, among other things.
Lots being figured out in the background even when I get quiet.
I hope everybody is staying safe, taking care of themselves and making smart decisions during this strange time, much care goes out to everyone. Personally, I am usually fairly isolated and such so I'm not having to make major changes in order to do the "social distancing" thing, for once the difficulties of my regular life actively pay off in making me particularly skilled and equipped to better handle some additional difficulties, life is weird...
Christina
March 9, 2021
Some pages are still under reconstruction. Thanks for your patience.

NEW!!!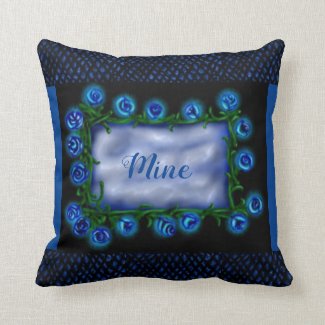 Mine Blue Purple Roses Dragon Scales Throw Pillows
by
bentrealm
The back of this pillow is almost the same, it's done up in purples though and the text says "Still Mine"